sOurces
:
creatOr
Mori Chack 森チャック
Gender
Male
Date of birth
23/3/1973
Occupation
Graphic designer
Place of birth
Osaka, Japan
Location
Tokyo, Japan
Also creates
Podolly

&
Kumakikai

WARNING: Gloomy Bear may not suitable for those who are scared of blood or hate violence.
Gloomy Bear - The Naughty Grizzly
Owner
Pity
Gender
Female
Height
About 2 m (> 6 ft)
Weight
As heavy as 2000 pomegranates (Picture of this fruit is displayed below)
Punch or kick Pity, Gloomy Bear's owner at
http://www.chax.cc/main.html?en
. The picture below shows the three positions you can choose from. It's quite violent but I find that it's stress-relieving though.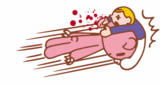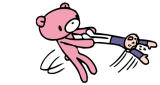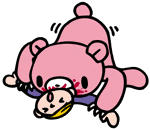 This is how Pity's life changed...
One day, there is a boy named Pity. (I know it sounds like the beginning part of fairy tales...) He found a box containing an abandoned bear cub on his way home. He felt pity for the bear so he decided to rear it. (His name is very suitable for him...) However, his mother thought that it's dirty, asked the boy to bathe it before it entered their house. The boy lives together with Gloomy Bear almost every day. He didn't expect it to become violent after its claw grew. It was abandoned, that's why it became ferocious. Pity is being punched, kicked etc. by the bear. Poor Pity... Ever wonder why he's still alive although always being tortured? Well, he can recover faster than normal person, which means he won't die no matter how hard it beats. Cool, I wish I have that kind of power.
Gloomy Bear & Pity Action Figures
With these figurines, you can play as Pity or as Gloomy. It's up to you whether to beat Pity or to help Pity to take revenge.
Think Gloomy Bear is too violent? There is another pink bear called MOMO Bear from PostPet.