sOurces
:
and many more...
Propagandist Company Limited was founded in 1994 in Thailand by advertising experts comprising Satit Kalawantavanich, Boonkiat Korsanan, Yodphet Sudsawad and Metta Sudsawad. Later, in 1996, Propagandist started to venture into international market.
Sense of humor and unpredictability
Where to buy Mr. P products?
They have stores in countries like USA, Canada, France, Australia, Hong Kong, Korea, Thailand, etc. Check the store location at
http://www.propagandaonline.com/
The links below are websites of some online shops where you can purchase there:
http://www.kaboodle.com/za/browse?q=mr+p&st=item&section=
http://www.celsus-tokyo.com/product-list/3
Designers

Chaiyut Plypetch (design director)
Date of birth
June 15, 1964
Birth Place
Ratchaburi, Thailand
Ankul Assavavibulpan (senior designer)
Date of Birth
September 18, 1977
Place of Birth
Ayuthaya, Thailand
Watch how Mr. P plays piano even though he doesn't have any fingers.
Some of the pictures below were edited from the products' photos or from the websites.
Click the images below to see them animated. (I don't know why they cannot work here)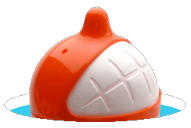 Products

(This is NOT the real brain, it's just salt and pepper shakers.)